HVAC Services

Install New Air Conditioning Units, Air Handlers, Furnaces and Evaporative Coolers
Repair All Makes and Models
Service/Maintain All Makes and Models
Evaporative Cooler Service and Maintenance
Install or Repair Ductwork
Install or Replace Thermostats
Install Exhaust Hoods, Exhaust Fans, Return Air Grills, Supply Air Registers, Smoke Detectors
Air Balancing
Free Estimates on New Equipment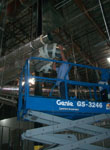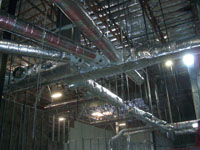 Our installation department takes pride in custom designing air conditioning systems for custom homes, churches, warehouses, and fast food restaurants. No job is too big or too small. Our custom designed ductwork is constructed in our own sheet metal shop.
Our Service department is top notch in locating technical problems. We do everything from locating freon leaks to changing compressors, motors and other parts.
Customer support is a priority. Don't hesitate to call or contact us for help with questions about your warranty or system operation. You will find our prices very reasonable, usually less expensive than our competitors.
Call us today for a free estimate.